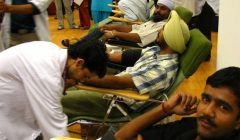 AGWO a charitable health organization, for marginalized sections of people for creating awareness in them related to deadly diseases. Whenever you're not at your best, you can likely tell. You may feel "off." You might observe that you feel tired, your stomach-related framework isn't working as well as it ordinarily does, and you appear to come down with bugs. Intellectually, you might observe you can't think and feel restless or discouraged.
A Giggles Welfare health organization helps the disabled children and their families for their overall development. The uplifting news: a solid way of life can assist you with feeling good. Far and away superior, you don't need to update as long as you can remember for the time being. It's really simple to create two or three little changes that can guide you toward further developed prosperity. Also, once you roll out one improvement, that achievement can persuade you to keep on making more sure moves.
AGWO creates awareness in these children and people to live a healthy lifestyle as disability affects not only the person who is suffering but also their family. The AGWO health organization helps these people in doing their day-to-day activities easily like the normal one. About fifteen percent of our world's population is suffering from a disability and through our initiatives we are creating awareness among society. We are on the way to create a society where every person should be treated as equal.
Our health organization, believes that disability is not a curse, it is just being different than the normal. Disability is not any kind of defect; it is doing things with different ability. We provide health-giving food to the needy for their survival. We   provide rehabilitations centre where disabled persons and children's are treated so that they improve their condition for their better survival.
AGWO Health Organization Services
Education
Rehabilitation Centre
Health-giving food
Free medicine and medical aids
Moral support and counseling
Free study material
Free transportation facilities
Health is the most important asset of human life. Being physically, and mentally healthy is great thing to live longer. So, in this case just think about these physically disabled people how they are surviving. This made our organization to do something good for their survival for easing their life.
It is our central goal to make crippled youngsters self-independent. AGWO had affected the existences of numerous youngsters emphatically so they can carry on with their lives with a thought process and without imagining that they are short of what others have. AGWO endeavors to furnish the ideal time alongside the right stages to people with inabilities from financial foundations to learn and to procure for their occupation and become monetarily free.
A Giggles Welfare Organization understands that there is no cure for HIV/AIDS, CANCER, so we provide prior prevention, counselling, awareness drives. Our trust understands the value of life. These kids are the future of our country and if they are not healthy and not taken care of, it will directly impact to society. AGWO strives to help these underprivileged children. Do share our posts and if you have any query you can mail/call us. For further more information do visit our website. Donate; without your support this could not be possible.