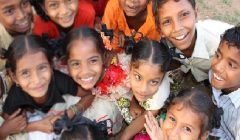 The Giggles Welfare Organization is a special NGO for Disabled. Disability is not a curse is only the ability for doing things with different abilities. Disability refers to the relationship between people with a disease.  With the passage of time a disable person learns to deal with the situation.
Over one billion individuals are suffering from disability. This relates to approximately 15% of the total population globe. Out of which 190 million are individuals 15 years old and face severe difficulties. There is an increase in population, and the number of disabled people.
A person with a disability faces many difficulties in doing daily activities. Persons with disabilities are subject to various violations of their privileges. Persons with a disability require different forms of segregation in orientation. Individuals with disabilities face isolation from family and society. AGWO an NGO for disabled supplies nutritious food to 3000-4000 families daily. These families are very poor and cannot afford their necessities.
Some Facts related to Disabled people in the society
1 billion people are living with some form of disability.
The number of people with disabilities is increasing. Disability is not shameful there may be a cure available.
Everyone is likely to experience some form of disability. Temporary or permanent ​​at some point in life.
Individuals with disabilities access medical care. They often experience shame and isolation. And receive low-quality administration.
Our NGO updates the work every month. Related to how we have helped these children and their families in difficulties. We counsel these young people with physiotherapists to share their thoughts. On how they are feeling, the challenges they are facing, and how they can adapt to these difficulties.
AGWO provides a group of experts for these children at the NGO's rehabilitation center. We are centered on an NGO for disabled youth. Our NGO instructs them with the goal that should never stop laughing. AGWO for disabled gives the ability to prepare and take care of oneself in every part of life. We strive to give them a healthy life.
Our main goal is to make disabled youth self-reliant. AGWO tries to give happy life to many children. That they live happily and earn respect in the society. They do not have to live with an argument. We believe these children are same like the others. AGWO strives to present the right open door to people with disabilities. This helps in Learning and securing their jobs. This helps in becoming successful in life with the right steps.
Binding up:
AGWO provide many services to the poor people and children for their better future. AGWO advances free meal educative exercises, and clinical treatment for children. This NGO creates awareness among the general public about serious infections like Covid. You can support us too by volunteering for us. You can volunteer with us by checking our website. Helping these families and children with disability is an act of humanity. And for getting activity updates you can visit our social media platforms. Like Facebook, Twitter, LinkedIn and Instagram.