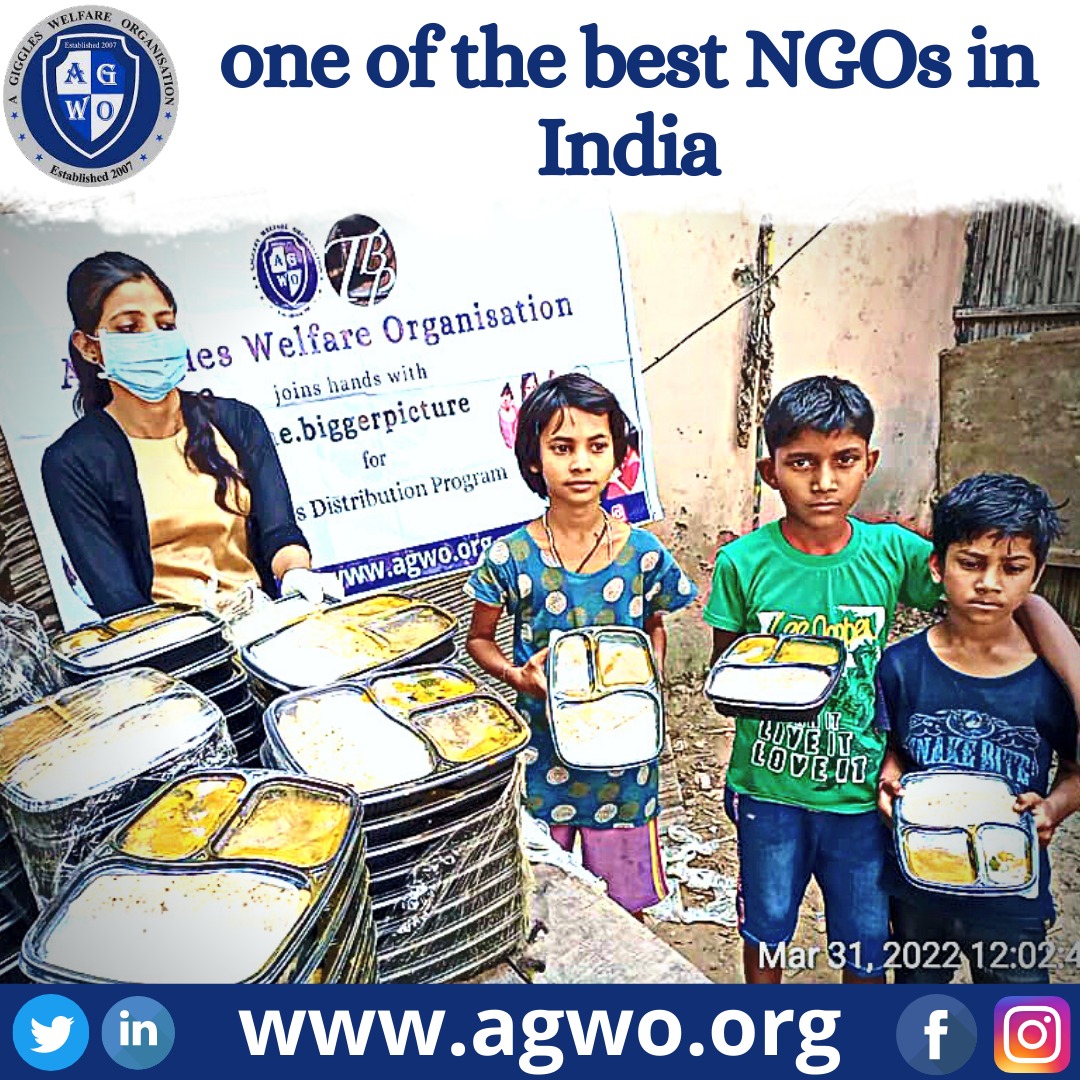 AGWO an NGO working for the upliftment of underprivileged children and their families. Without a doubt, our NGO is focused on serving underprivileged people and children. This makes our NGO one of the best NGOs in India. Our NGO plays an important role in providing services to persons in need.
What makes us one of the Best NGOs in India?
First and foremost, AGWO serves humanity and especially fulfills the needs of the poor. Along with fulfilling the needs we provide the poor children with skills.
Secondly, Our NGO is provided free-of-cost education to every child. Not only do we provide education, but also aware people of the importance of literacy. Education is that basic right that every individual should have. We provide educational stationery like books, copies, pens and other necessary items.
Thirdly, we support the family whose member is suffering from deadly diseases. We provide nutritional food to approx 3000-4000 poor people. To get food, the basic human right and to provide food is the basic service an NGO should give. We provide a variety of food to meet the overall nutrition of the human body.
Contrary to this statement in India the amount of food wasted is huge. We are just trying to reduce the big number of hungry people. We not only provide services, but also bring hope to the lives of people.
Apart from this, Our NGO aware people about the child protection act. Which says that a child is to be protected from any kind of exploitation and abuse? A child has the right to take part in any kind of decision directly or indirectly related to them. These services make our organization one of the best NGOs in India.
In India, NGOs undertake a variety of activities. Along with Human our NGO focuses on taking care of the environment. Empowering and engaging individuals by providing direct benefits. Such as providing nutritious food to malnourished youth. We make aware people of the importance of literacy. To help the oppressed and disadvantaged has a wide impact moving on in everyday life.
Conclusion
The work done by NGOs goes a long way in nation-building. NGOs can potentially reach out to a larger number of people through their work. Over a long period, NGOs have streamlined their activities and improved their scale. AGWO believes in working with straightforwardness. Moreover, our transparency acts as a back which leads to helping the poor in many ways. Our NGO needs funds to help these children in getting skills like painting, carpeting, tailoring etc.
NGOs are now problem solvers. In times to come, our NGO will continue to play a big role in helping weaker sections of Indian culture. To emerge from the mess of deprivation and misery. AGWO tries to bring giggles to the face of deprived children and families. At this time, it is very important when we pay attention to the people living in slums.
In addition to this, if you want to support or volunteer with us, do visit our website https://www.agwo.org/. If you were eager to get our daily updates, you can follow our social media platform. Like Instagram, Twitter, Facebook, AND LinkedIn.