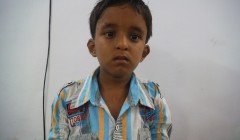 A Story of Change:-
Poverty and absence of any social security/medical insurance for the poor in India renders the rural poor extremely helpless in the face of life threatening diseases. Malnourishment makes them all the more vulnerable and inadequate health facilities in rural areas compounds their problem. Poor patients often succumb to life threatening diseases, if timely medical assistance is not provided.
It was a nice morning when Sachin came to this world, his parents were very happy when they knew that they have been blessed with a son. But they did not know that this happiness is for a very small time, the celebration of having a son was not even finished when they got to know that their son is having a hole in his heart. Shyam Babu and Kesh Kumari were very confused and frightened for how to go about it. Shayam Babu was working as a gardener for a family who were doctors in Lok Nayak Hospital and they advised to show him there, Sachin was of only two months when we was recognized with the life threatening disease TOF at the same hospital, as he was very small they did not allow for surgery, also they were not capable enough to go to a private hospital for treatment. Having financially very weak, he somehow started Ayurvedic Treatment for 2-3 years, but was not getting a positive result as Sachin was getting weak day by day and having problems in breathing, he could not play for a long time, he missed the fun of childhood. As Shayam Babu lack the guidance, he should have shown Sachin in AIIMS earlier, he showed Sachin in AIIMS when he was 7 years of age, being a Govt. Hospital he could not get a timely response, Fate did not give him togetherness to get his son treated timely to a private institution. For last 1 and half year he was moving around in AIIMS, and Sachin's condition was getting critical day by day. Somehow they got a response and doctors advised a heart surgery which will cost Rs.52000 and that can happen only in 2015 as they can't give time before that due to busyness of the hospital. Shayam Babu was now hopeless and disappointed as neither he could afford Rs.52000 nor he can wait for 3years for the surgery, one day he got to know about our organization from the house owner for whom he was working in Lajpat Nagar, we find the situation critical and for us Sachin didn't deserve to die due to his poor financial plight which he probably doesn't even understand. A Giggles Welfare Organisation had provided Financial Aid of 52000 and talked to the hospital authorities at their level and the surgery got happened successfully.
Now Sachin can also play like a normal child, can enjoy every bit of his childhood, their parents can see the lovely Giggle back to their child's face, what else we want- for us seeking happiness for others we find it for our self.
Shyam Babu and Kesh Kumari are very grateful to A Giggles Welfare Organisation and now living their life happily in their small beautiful world.
If you also want to make a difference to other's life, come join hands