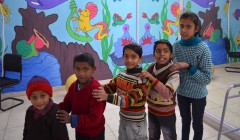 We dream to open one of the biggest hospitals (approx.350bedded) in Delhi for providing free medical treatment to the under privileged children from all across the country and to bring back the giggles on as many faces as we can.
This dream will meet the reality as all the efforts are being made by the team to make India a disease free country.
Furthermore we aim to reduce the abuse of disability and to alleviate  medical care  for abandoned and underprivileged children with the intent and hope that such innocent kids may have an opportunity to lead normal and near to normal life to sustain in future.
Besides, it continues participation in networks, campaigns and movements to facilitate development of the citizens especially in the areas of child rights, women empowerment, participatory governance and community management of natural resources.
We also dream to see an India free of poverty and illiteracy where the poor are empowered, an India where the bridge between the poor and the rich is within acceptable limits. An India in which today's underprivileged youth succeed tomorrow, create a niche space for themselves, and are able to contribute to the growth of the country. Eventually we also dream of an India in which every other educated soul understand the importance of giving back what he or she has taken from the society and that this makes India go from strength to strength.
India is a country of contrast! While it has 53 billionaires, it has also an estimated 17 million child laborers, we dream that these children should go to the school and should play in the playground and feel as we felt in our childhood.
The country is the home to some of the top 10 rich in the world, but it also homes almost 3 million children living on the streets, we want to make a difference for these children life styles as they also have all the rights to have a roof over their head.
In this India scenario, the statement "Children are the future of the nation" stops making sense! In fact it sounds like an ominous prophecy, for us this scenario should change as soon as possible.