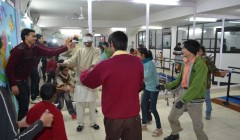 Our mission is to create value oriented quality of living for individuals through community mobilization, and sustainable resource management through participatory governance. Core emphasis given to participation as a whole, education for all, and social capital formation under a holistic system adopted by the organization, to enable people to take responsibility for the situation of the deprived child, especially Indian, and so motivate them to confront the situation through collective action thereby giving the child and themselves an opportunity to realise their full potential.
Ultimately our main mission is facilitating life in a revolutionized way in all its realms. This is done by mobilizing the Indian community as well as participatory governance on the basis of natural resource management that is sustainable.
For A Giggles Welfare Organisation, thus environment protection and promotion, participation of community, providing education to the needy, providing financial assistance to disabled and underprivileged children whose families are not able to get them treated due to their piteous financial condition are the most important activities. To address epidemics related to AIDs and HIV all the required support and programming needed in a full range is offered by A Giggles Welfare Organisation. We develop agencies in the private sector, governments and non-government organizations. All the training and managerial and technical assistance required is provided by A Giggles Welfare Organisation.