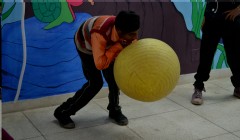 Poverty and absence of any social security/medical insurance for the poor in India renders the rural poor extremely helpless in the face of life threatening diseases. Malnourishment makes them all the more vulnerable and inadequate health facilities in rural areas compounds their problem. Poor patients often succumb to life threatening diseases, if timely medical assistance is not provided.
A Giggles Welfare Organisation with generous donations from responsible persons in the form of Medical Aid Programme has been supporting the socio-economically poor patients suffering from life threatening diseases for hospitalization and treatment. It contributes partially to defer expenses incurred in undergoing expensive treatment, especially in cases of chemotherapy, heart operations, kidney transplants and other health problems of serious nature.
A Story of Change :
Suparna, aged 7years, was living a happy life with her family. But tragedy struck the family when she was diagnosed with serious heart ailment. The doctor at AIIMS hospital, Delhi told her mother that she needs to undergo Open Heart Surgery immediately. The hospital management offered a concessional treatment package but still the expenses were beyond her family.
Suparna's Mother Aparna, a maid by profession was under tremendous stress as she did not have sufficient money to sustain the treatment. She was then advised by the hospital authorities to contact A Giggles Welfare Organisation for medical aid. Her request was accepted and A Giggles Welfare Organisation gave Rs.55,000 for treatment. The operation was successful and Suparna recovered well after the treatment.
Aparna was extremely happy to see her daughter regaining health and was extremely grateful to A Giggles Welfare Organisation for timely support.
This is just one case; A Giggles Welfare Organisation has resolved  so many cases at AIIMS Hospital in past 5years, provided financial aid to  thallesimic patients at Kalawati Saran Children's Hospital,resolved cases at Fortis Escort Heart Institute.
Our support will be extended in future as well for this venture with the help of our society.