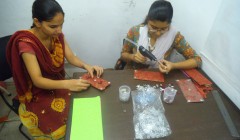 There are n number of people in India are handicapped and unemployed. Many Institutions in India have been providing relief and help in rehabilitating them so that they stand on their own feet economically and also prove useful to the society. Vocational rehabilitation of the handicapped person is a process which enables him/her to secure suitable employment which he could retain and advance a permanent base with an ultimate aim of integrating or re-integrating him/her in the society.
Information, though conservative, shows that there are 70 million disabled people in India. One in every ten children or 3% of the countries total child population also falls in this category. The government itself admits that of the total disabled population, only 2% are educated and 1% employed. Yet, no great effort is being made to give physically challenged people a better world.
A Giggles Welfare Organisation has taken the initiative to give the following vocational training to the specially-abled people:
Candle Making
Envelope Making
Computer Literacy Programme
Paper Handcrafts
Personality Development Programme
Call center Training
An attempt to eradicate poverty!!!